Welcome and Thank You for taking the time to visit our website
" Where you are but a stranger once"
Having poodles is the love of our lives…Our poodles are raised with us in a family atmosphere..They share our daily routine of life..They make our life interesting and rewarding…For anyone who knows the poodle breed they know that poodles are the most interesting animals any human being would be lucky enough to experience as members of their family…They have lovely natures, they are extremely intelligent, sensitive and are great for people who have allergies as it gives them also the opportunity to experience 'man's best friend.'
I am intrigued with the poodle breed and it is a real joy to nuture and raise a loving pet for you and your family. We raise the pups for the first two week of their life in our bedroom to keep them close to us at night. At two weeks old they spend the day in the living room to be around the everyday noises…Let's not forget the parents of the pups..They want for nothing. Special and constant care, love and attention is given to each and evey one of them…I believe that 'healthy, happy, emotionally sound parents' equal healthy, happy, emotionally sound puppies.
We live in the country on 12 acres. Our dogs get lots of exercise and have lots of fun.. Our adult dogs do not have fancy showdog haircuts but they live life to the fullest. They play hard…run…swim…jump..play tug of war with each others ears and get dirty..Thankfully they like their bath…Haircuts..not so much. But life's not perfect.
Our pups come registered with the Canandin Kennel Club. They are vet checked at eight weeks old and get their first needle at this time.  They are dewormed with strongin t and safeguard. They are  microchipped. Their tails are docked and their dewclaws are removed.. I begin paper training at 3 weeks and most of the time the entire litter is paper trained at 8 weeks old when they leave my home.
                                                                    WE FEED ROYAL CANIN SMALL KIBBLE
We sell to pet only homes..     A $200 non refundable deposit will hold the puppy of your choice…
If you think you could provide a forever home
"Start poodlinn, at Deb's Poodleinn"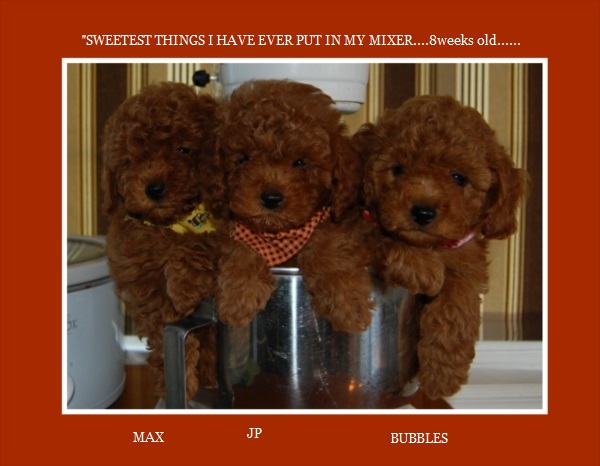 How to Make a Puppy
Take one puppy, roll and play until lightly pampered, then
add the following ingredients..
1 cup of patience
1 cup of understanding
1 pinch of correction
1 cup of hard work
2 cups of praise
1 1/2 cup of fun
 Heat with the warmth of your heart until raised or until puppy has doubled in size
Mix with owner until the consistency is such that the owner and puppy are one.
AUTHOR UNKNOWN