Casey and Boomer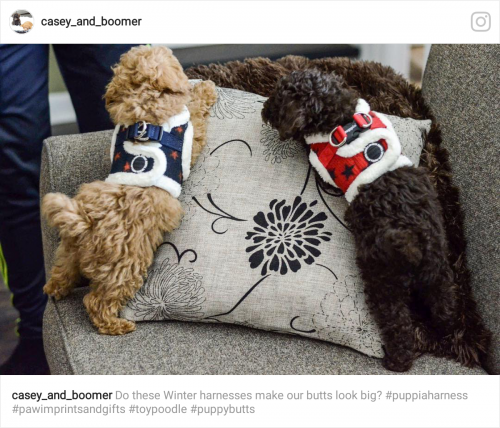 If you are looking for a healthy and happy mini/toy poodle, look no further than Deb's Poodle Inn. Debbie Hamelin's dedication and genuine love for her poodles is what makes them special and our boys Casey and Boomer are no exception. Debbie does an outstanding job of raising her poodles in a nurturing family home environment and prepares them well for their new life as family pets. Both boys were relaxed and friendly when we picked them up, it was obvious that they had been properly cared for and socialized, both have lovely temperaments. An added bonus for us was realizing that they already knew their names. Their crate training went very smoothly thanks to Debbie's well-structured day & night routine, they happily pitter-patter between the crate and playpen on command without any fuss. We are overjoyed with our little poodle pups, our pack is now complete!
Mimi and Darren
Ottawa ON
Ottawa ON
---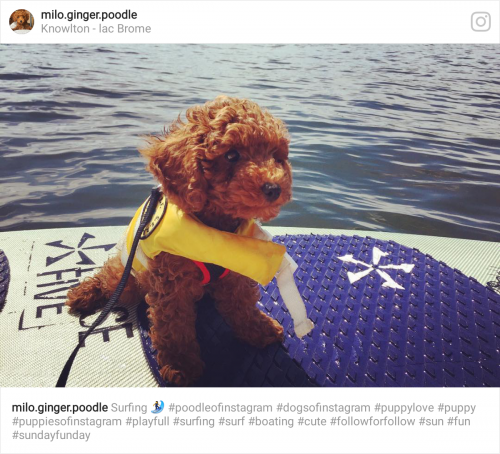 Milo is the cutest puppy I've
ever seen. Everybody stares at him on the street and can't stand
his cuteness. He is such a great dog; very friendly, playful and
loving. Milo has brought joy and love into our life. I strongly
recommend choosing Debbie's Poodle Inn as a breeder. She is good
and caring with her puppies.
---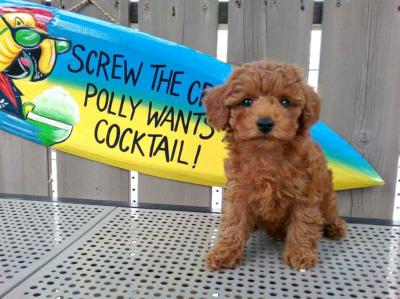 From day one we have been impressed with Rosie
She has already adopted us as her new family.
When people ask why did I go so far to get her…
 I tell them that Debbie knows what it means
to all of us to receive an exceptional pet ,
A new baby has joined the family .
I  am so glad I made that choice..
Thank you Debbie,
Rosie also says thanks
---
After a thorough national search
for a wonderful breeder, I chose Debbie Hamelin at Deb's Poodle
Inn. I am so grateful for her wisdom, guidance and ability to
listen to me the buyer as we 'chose' the right puppy for me. Amedeo is
emotionally well adjusted, teachable (sometimes incorrigible at
10 wks) loveable and laid-back. Amedeo attends work with me
daily and everyone comments on how handsome and relaxed he is
within a busy workplace.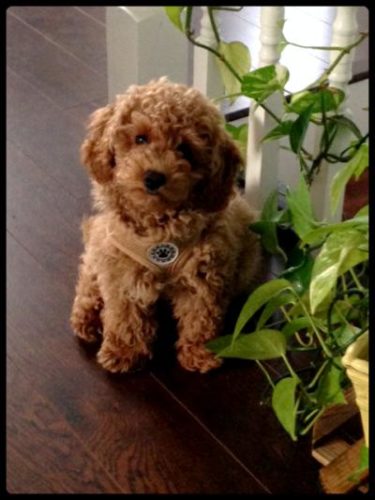 Nova Scotia has already heard
about Amedeo's "first" Mom and how well she prepared him for his
new owner. I am and shall continue to recommend Debbie and her
wonderful facility! Thank you, Debbie for blessing my life with
this 4-legged bundle of joy, who is always smiling, up for a
challenge and ready to rock my world with lots of fun
Thanks, Debbie and I am sure we
shall chat again,
Enjoy your day,….Lana
---


 Our little Miss Poppy is doing just great.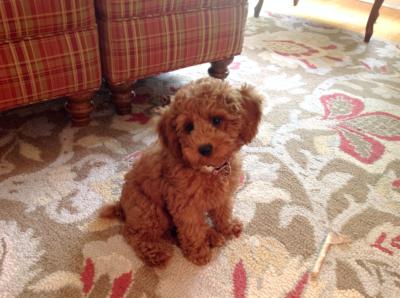 We love her to pieces. She has a wonderful easy going disposition and she gives lots of affection.
She passed with flying colours and mutual enjoyment and extended visit with three children. In a couple of weeks we will start obedience training but already she has learned many commands.
She is one smart cookie. Thank you for our wonderful pet, we couldn't be happier
This is our little fur ball Miss Poppy. She will soon get her first haircut and likely will look different, but for now she looks cute and furry.
Poppy is the sweetheart of our neighborhood.
Warm wishes, Karen
---
 Good morning, Debbie!
And it is certainly a good morning

here, brightened up by the bouncing of our dear little toy

poodle Misty. You probably know that the main reason we

selected your kennel was because of the glowing reports of

the health of your puppies. By that, I assumed past

customers meant physical health.
And to me that was very

important having just come off 8 years of nursing a dog with




intense health requirements. And in every way, Misty has

shown that she comes of fine healthy stock.
BUT what I didn't realize or consider is that psychological health is tremendously important too. And the joys we are
finding with Misty are so intimately related to that mental health. She is confident and curious. She is willing to
investigate everyone and everything she sees. She bounces around like nothing in the world is a care for her. She must
have had such a nurturing environment to have this wonderful attitude at only 8 (now 9) weeks of age.
She is well before the age that toilet training is thought to start (statistically) but she is so smart and has been to
the door to ask to go out already twice this morning (9:14). Accidents have been few and far between and I find this
quite out of character with other puppies. She attached herself to Tom and me almost
instantly and I was amazed at how she was able to transfer affections so easily, further allowing me to see her courage and
confidence. She is everything and more than we expected and Debbie, we could not be any more pleased with our little darling.
Christine Brown and Tom Roberts
---
What can I say about our Tessa!!!!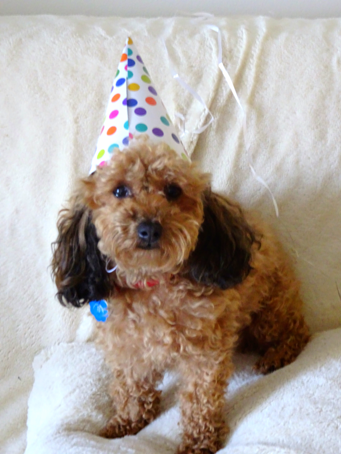 We have had her a month now and she is a pure joy. We lost our 18 year old mini poodle in February and we didn't think that we would get another dog. It didn't take long for us to realize that there was a hole in our life that only a puppy could fill. Fate brought us to Debbie and our little Tessa. The wait until we could bring Tessa home seemed long but Debbie made it so much easier with our Sunday updates and pictures.
Debbie seemed to understand our need to be able to watch our little puppy grow during her first 8 weeks. Now that she is home with us she makes us laugh all the time. She is a healthy, happy , loving puppy. Our friends say that they come to visit Tessa now , not us. People stop us
on the street to tell us they think she is the most Debbie for filling our life with Tessa pleasure.
Donnie & Steve
---
 We lost our beloved poodle Phoenix after fifteen years and never thought that we would find another pet as loving and faithful; we were
wrong! Thanks to Debbie, we are the proud parents of a chocolate brown poodle named Mollie Brown Skye. Debbie kept her sister
Abby for breeding purposes and we feel so lucky that she decided let us have Skye. The words that best describe Skye are "Oh
My God!" Skye is energetic, extremely affectionate, as curious as a cat and is never far away from us: she just loves life. She
has made herself an integral part of our lives from the moment she awakes until we close the lights at night. She does have her
moments but she also understands when she is being scolded and afterwards comes looking for kisses following her "time outs".
We just love her to death. We are constantly stopped by strangers on our walks, complementing us on how gorgeous Skye is
what beautiful colour her coat is. Thank you again Debbie we could not of picked a better companion and friend.
Suzanne and Nick Dinelle